People hate insurance - until they have a claim.
Then, the type of insurance coverage they have becomes pretty important. At Cedar Risk Management & Insurance Services, Inc. we don't "sell" insurance; we provide proper insurance coverage for your unique needs.   We don't believe in a one-size-fits-all policy because the right - or wrong - insurance coverage does matter.
In 1971 Raritan Valley Insurance Services was established and continued to grow and prosper in personal and commercial insurance.  In the spring of 2013 RVIS implemented an Employee Benefits department, providing new products, services and people.  But in becoming a full service insurance agency we realized that Raritan Valley Insurance Services just didn't capture who were were anymore, and so we began the journey of agency rebranding.
We knew at the onset that we wanted a brand that signified growth and diversity, while also promoting strength and stability. This led us to the concept of a tree; but it couldn't be just any leafy green tree that was the epicentre of our new brand - it needed to have meaning, too.  Native Americans believed the Cedar tree symbolized prosperity and protection; two words that should be synonymous with insurance.  We still believe - very strongly - that proper insurance coverage is one of the best investments you can make, and our mission is to provide the most complete protection, along with the highest level of service, to help you and your business prosper.  Because Coverage Matters.
Warren Buffet once said "Price is what you pay; Value is what you get".  Too many insurance agents only care about price - how cheap is their policy compared to the next guy/gal.  The agents at Cedar Risk focus on education, because once you understand what your policy limits will mean to you in the event of a claim, you realize exactly what you may lose with a price-focused policy (HINT: removing or reducing coverage to lower the cost means you have less protection, and that kinda undermines the whole purpose of the insurance policy).
Because the agency has been around for over 40 years we have access to dozens of carriers, both regional and national, with hundreds of insurance solutions available so we can customize the right insurance policy for you and your needs.
Why do business with Cedar Risk ?
Unlike a captive, or direct insurance company who only offers their own proprietary products, our agency is 100% independent of any one company. Many insurance consumers don't fully understand just how important that really is.
When it comes to something as important as insurance, it's imperative that you work with an agency who has an in-depth knowledge of multiple insurance products, companies, and guidelines — not just one.
At the end of the day, what separates one agent from another, is their ability to proactively service their policy holders, and their knowledge of the insurance industry, products, and different situations that may present themselves to their clients.
Independent Agent Vs. The Rest
Here is a quick comparison of the differences between an independent agency like us, and the various other types of companies that are out there: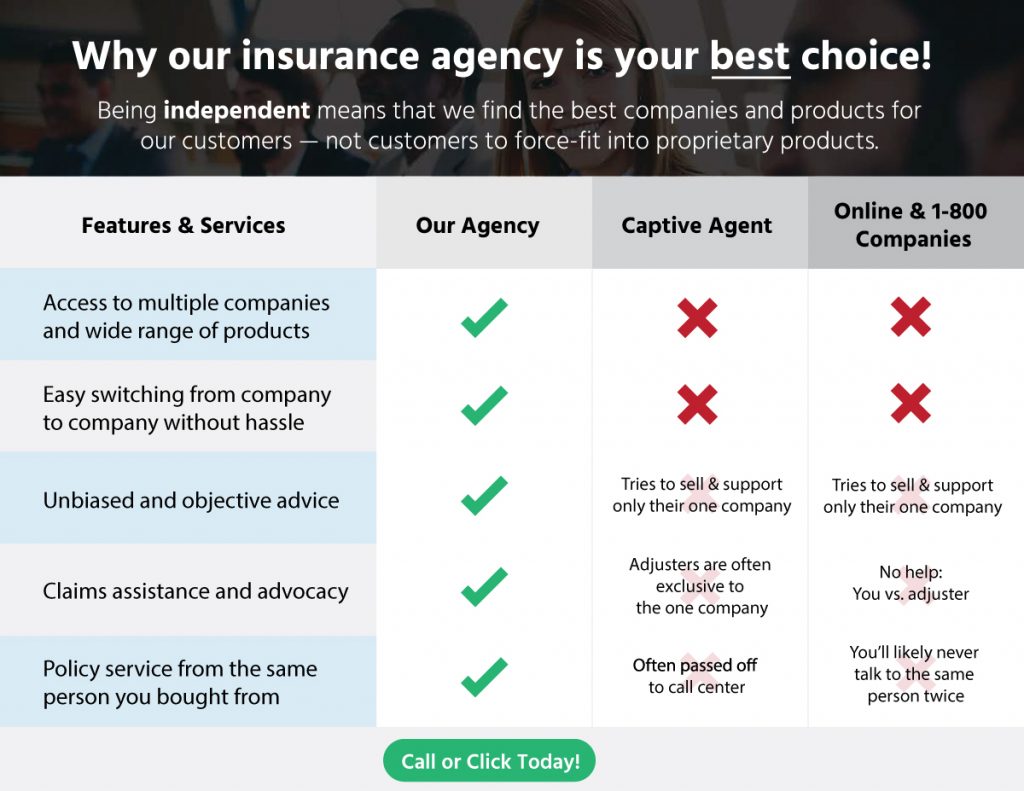 If you'd like to get started with a complimentary quote and/or policy review, we'd be happy to help you any way we can. Simply complete the fields below to get started online in a matter of seconds.
We appreciate the opportunity to help you, and look forward to servicing your insurance needs! Feel free to call us directly if you have more detailed questions.