I recently found myself looking back on the planning of my long awaited wedding. My fiancé and I married in April of 2014 after being together for nine years. It's such an exciting time. We were having so much fun coming up with ideas. We found a great reception site, a wonderful photographer, and florist we just loved, left messages for an officiant…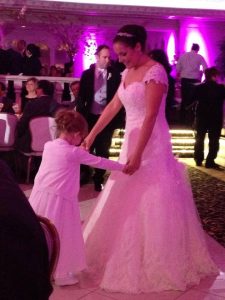 And then we started handing over deposits. The fun kind of flew out the window.
Doesn't matter if it's cash, a check, or credit card, those figures on the deposits are not small! We NJ brides drop a small fortune on our weddings. What happens to my money if the vendor goes out of business? I work with small businesses on their insurance needs every single day. Therefore I know what hardship they're going through in this economy and have seen many good businesses close. What if that happens to my dress maker? What would I wear?
Ways to Cover Your Wedding
Thankfully, I do work with insurance every day and I was fully aware of the wedding insurance options out there. Luckily several of our companies offer wedding insurance coverage! As a result, I only paid $600 for my policy to cover every possible catastrophe I could include. And it was probably the cheapest thing in my entire wedding planning process!
Here's how it works: you contact your favorite insurance agent and tell them you're planning a wedding & need a wedding insurance policy. We send over an application that asks you what types of coverage you want to be included, how much you want it for, what the date is, etc. We then run up several quotes for you. Every insurance policy and every wedding scenario is different. Above all, be sure to talk to your insurance agent. Have him or her explain the nuts and bolts to you. You want to make sure you and your sweetie understand every detail of your policy. Finally, here's some of the things we can offer for you:
(Be sure to read the fine print of your policy to make sure they cover these things!)
Weather – If your celebration has to be postponed because of bad weather, your policy should cover the cost of rescheduling.
Illness/Injury – If essential people get sick or injured and the wedding is postponed, the expenses of postponing are covered.
A Missing Officiant – If your minister, justice of the peace, rabbi or other celebrant should be a no-show, you'll recoup some of your costs.
Missing vendors – Similarly, if your caterer, florist, photographer, or other key vendor is missing in action, you'll recover the deposit, some costs and possibly the costs of rescheduling the whole thing.
Your Location – If your ceremony and reception sites don't already carry their own insurance, your wedding insurance policy can cover damage to the site, fire, electrical or mechanical problems, or going out of business that causes you to lose money or have to reschedule.
Additional Expense – If a vendor suddenly becomes unavailable for the event and you CAN find a last minute replacement, your wedding insurance policy can reimburse you for the difference in cost, up to 25% of the original contract price
Ruined Photos – If your pictures are defective, lost or damaged, your wedding insurance policy will help reconvene your entire wedding party to take new photos or video.
Additional Riders You Can Purchase
Military Service – Should the bride or groom be in the military or active reserves, you'll want to be insured in case they are called to duty suddenly and everything has to be postponed.
Your Gowns and Tuxedos – Including stores going out of business or damage.
Gifts – If your homeowners or renters insurance doesn't cover them, you may want to protect against theft or damage of gifts.
Liability – Most sites carry liability insurance, but if you're having your wedding at home, you'll want to be protected in case a guest gets hurt or hurts someone else.
Honeymoon – Protect yourself against having to cancel your trip due to illness, bad weather or other unfortunate circumstances.
Any questions feel free to contact us at 855-678-CEDAR (2332) or [email protected].